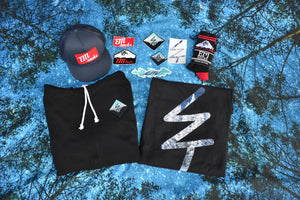 EvergreenTreez x EM Socks Giveaway
EvergreenTreez is honored and humbled to collaborate with our good friends at EM Socks to offer a rad stoke package giveaway. EM Socks is another company born in Seattle with a spirit of adventure. They have a passion for blending art, performance and family roots into their brand. EM makes some incredibly unique and comfortable socks with designs that pay homage to the culture of the Pacific Northwest. Their socks are perfect for shredding the streets and slopes alike. As a sponsor of the Stevens Pass Park, Summit Parks, Sisters In Action Sports and many skate events in Seattle, EM does a lot of community engagement.
I've known Erin and Michael since 2012 when I taught their son Julian snowboarding at Summit Central. We've had some great times lapping the local mountains together and learning new tricks. Michael always has the GoPro ready to capture the moment. EM has definitely been an inspiration for me as an individual and a blossoming collective.
We're stoked to give one lucky person the gift of a Mountain Life Zip Up Hoodie, Snowy EvergreenTee, Rainier Edition Crew Socks, EM Trucker hat and some of our freshest stickers. Follow both Instagram pages (@evergreentreez, @em_socks) to put your name in the hat and get more info. Thanks for the support!
---
2 comments