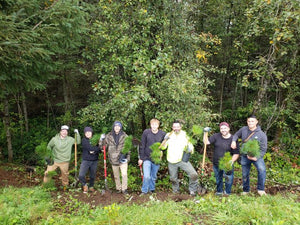 Saturday In the Park | 418 treez planted
Since our first planting party at the Cedar River we spent the summer removing invasive species (mostly blackberry) from around the young treez. We carried homer buckets full of river water back into the forest to keep them watered. Out of the 57 we planted it's safe to say at least 50 will survive and thrive! Thinking about climbing them in 20 years gives me goosebumps. The riparian forest in Renton holds a special place in our hearts and restoring that river will help protect several keynote species including salmon in the years to come. Our efforts at Ron Regis Park are ongoing; there's another restoration event there on Sunday October 21st for anyone who's interested! You can find more information at forterra.org.
As important as the Cedar River is to us, we knew that we wanted to spread our rootz. In addition to planting treez and restoring the forests we love, a goal of ours from day one has been to engage and inspire the communities we work and play in. We were fortunate to make a connection with Forterra Northwest while planting spruce, cedar and fir treez back in May. We made an impression on Forterra with our guerrilla planting at Ron Regis. We literally dug 57 holes with our homies with no permit or plan. All we knew was that we were planting three species that were native to the forest. I was able to meet with Forterra leaders over the summer at their office in Seattle to discuss some creative ways in which we could partner with them. One of the ways was to play on that rogue planting attitude. We agreed that our crew could become tree ambassadors in a Forterra x EvergreenTreez partnership. What is a tree ambassador? Basically a proponent of treez who brings passion and exuberance to planting parties. Not to mention free food and a giant speaker to set the vibe.
Forterra has worked with local organizations both public and private since 1989 to secure wilderness areas in Washington for a sustainable future. They asked if we could sponsor Green Snoqualmie Day by planting and providing gear for their raffle. The Green Snoqualmie Partnership put our logo on the event poster and we were honored to take part in it.
Anticipation was building in the weeks leading up to the event and we were ecstatic the time had finally come. The day started off with low lying fog and dew in the grass. We got there around 8 to set up our table and show off our gear. As volunteers started to trickle in we brought out the tunes and began flying our drone around. Forterra introduced all the sponsors & partners and explained the type of work we'd be doing. 
We split up into several small groups, each one assigned to a different species of native treez or plants. Our crew started with the lodgepole pines and it felt great to breathe in the crisp autumn air as we got our hands dirty. The good vibes were definitely tangible. There really is something special about planting treez. You feel a deep connection with the spirit and the energy of the planet when you loosen those roots and fill in the holes.
Digging your hands into the dirt and seeing earthworms crawl around is oddly calming. We had a good system in place; we'd take turns digging holes and planting so every time there was a fresh hole there would be a tree in it shortly after. We laughed our asses off and took breaks to dance and sing. We got especially vocal when Africa by Toto came on the speakers. 
Treez are the lungz of the Earth. Without them we wouldn't be able to ski, snowboard, camp, hike, climb or live life. It really doesn't take much to step outside and feel a connection to the natural world. We're just doing our part to give back to the forests and mountains that have inspired so much freedom and creativity in our lives. 
We spent a solid three hours planting and with the help of 78 close friends, family and community members we were able to restore an ecologically sound forest in the heart of Snoqualmie Ridge. In total we gave new life to 418 treez. Not a bad way to spend a Saturday morning!
After the planting  was complete we were able to give away some of our ET gear in the volunteer raffle. We've been working hard the last few months on creating cut and sew products in a South Seattle apartment. These garments are geared towards life in the treez. Our partnership with Forterra will make it possible for us to continue giving back and having fun while doing it. Our newest line is launching soon and everything that we sell translates into a native tree planted at a future Forterra event.
We now have a full line of gear from hats and beanies to sweatshirts and rain jackets. Not to mention a shit ton of stickers that you'll start seeing everywhere. The sapling jackets are our newest addition; they'll be available on our web store soon. The pullover jackets feature a kangaroo snack pocket, 10,000 mm waterproof rating and are completely customized by our crew. The EvergreenTreez name is embroidered into the hip and we can add a custom name/nickname to any jacket. We were hyped to see how excited everyone was to grab some of our gear. We passed out a ton of stickers, patches and t shirts.
We might not have the flashiest marketing campaign or the biggest social media following, but we believe in our cause. It was dope to have so many of our close friends attend the event and spread the stoke. Although this was our first real planting party as a group, we look forward to continuing our quest to reforest Washington and inspire people to get out and enjoy the forest. This was one small step for treez, one giant leap for EvergreenTreez. 
---