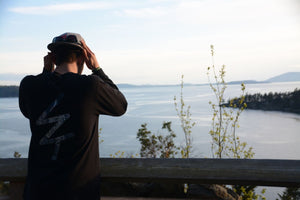 In Like a Lion, Out Like a Lamb
Winter 2017-2018 was truly one for the books. It honestly seemed like it lasted forever! We started our riding with an early season swell at Mount Baker in November. It snowed a few feet before Turkey Day. Those early season days on snow were great, but then Mother Nature threw us a curveball. It didn't snow much at all in December. Then miraculously we saw a white Christmas in Seattle. Fortuitously, that was the day we released our Mountain Life Collection. From there the start of '18 provided some of the best and most consistent powder daze we've seen. It felt great to rep our own riding hoodies on the mountain and to hook up friends and family. We slapped our stickers on lift towers from Bend to Bellingham. We teamed up with our friends at EM Socks to do a giveaway of some of our freshest gear. Our webstore opened on February 1st and has been a source of pride and joy ever since. We made a handful of sales this winter, but the most important thing for the ET crew was to continue spreading our rootz organically. We all had a chance to get epic turns in on our own, but because of the hectic nature of life our crew didn't get a lot of days on snow at the same time.
We knew we needed to change that heading into the latter part of the season. We usually go to Whistler every year for the World Ski and Snowboard festival in April. This year, responsibilities got in the way so we planned on getting some spring riding in at Mt. Baker, AKA Mt. Weird instead. Not a bad consolation prize! We were expecting T-Shirt weather and slush slashing. What we hadn't anticipated was the huge amount of snow that would fall in April this year! Troy booked us a spot in Glacier for the weekend of 4/20. Epic right? We were all so burnt out from a long stretch of work that we couldn't wait to pack our bags and get our asses up to Glacier.
We started the trip off with a much needed detour from I-5 to cruise one of the most serene highways that we know. Chuckanut Drive was the original road that connected Seattle and Bellingham. It winds through the Chuckanut Mountains and a tunnel of Treez. Larrabee is Washington's original state park and one of our notorious kick-it spots. We rolled past it and reminisced over past camping trips and laughed with our homies. Nothing like sparking up nostalgia to start a weekend off right. We decided to pull off the road and check out a viewpoint we'd been eyeing.
Bellingham never disappoints! Immediately upon stopping and filling our lungz with the fresh air and scent of the treez, we felt revitalized. It was a gorgeous evening and we could feel the transition from winter to spring in full effect. I've never had the chance to bust out the ol' longboard on Chuckanut. It's a windy and twisty road that's perfect for getting in a few carves. On a quiet Thursday night the vibe felt right. I headed up the street to catch some extra speed and shouted "here we go!" in my Super Mario voice as I slashed down the historic highway. Safe to say the trip had gotten off on the right foot.
As the sun began to set we started to get pretty damn thirsty. We headed into Bham where we could reunite ourselves with a local's favorite; The Up and Up. One of the chillest bars in town felt like the move on such a calm night. We were beyond stoked to learn that they had Bodhizafa and pizza by the slice on happy hour. If there were a shaka emoji it would be inserted here. We slapped a few more stickers around town and started the last leg of our journey towards Glacier.
Once we arrived at the Snowline Lodge it was only a matter of time until we felt like we were in Hot Tub Time Machine. The old school hotel/condo building had the musk of years and years of ski bums and kooks alike. If our crash pad could say one sentence it would be "I got you bro." We had literally everything we needed, including a tranquil view of a stream and a dense forest. The place was also a two minute walk from Chair 9; the only bar in Glacier. We walked over there and had a few toasts with the crew to loosen up for a big day of riding that was on tap.
Spending 4/20 at Mt. Weird was a euphoric experience, to say the least. It was a true bluebird day full of hot pow and parking lot pimpin'. Anytime Mt. Shuksan comes out to play you know it'll be a great day. We found the Jamie Lynn hit and a few other natural features that instilled a visceral joy in us all. The snow got pretty sticky and slow towards the end of the day so we headed down to the lot to grill up some brats. Nothing better than lunch with a view. Later that evening we decided to skate down to the Mt. Baker snowboard shop to say wagoo. Jeff, the shop owner offered us a brew and we ended up staying there for quite a while. It was dope to see the small town vibe in full effect; a couple came in for a heat mold on their boots and a few others were relaxing with a snowboard movie in the background. I even got to use their foam roller. We left a bunch of ET stickers on the counter for people to grab; if you happen to be in Glacier make sure to stop in for a visit. Once we got back to Snowline I felt the urge to post up in my hammock under the canopy of treez. One Digiorno Pizza later and we were all out for the night.
After riding such spring like conditions on Friday we were shocked to hear that Baker had gotten hit with 8 inches of fresh overnight. Saturday morning had a completely different vibe. The rain had come to Glacier and made the air even fresher than it had been. The temperature dropped a lot and we knew we were in line for one last pow day. We were greeted by an empty mountain and some of the best conditions we'd seen all season. Troy, Joey and I were all riding Arbor boards; we headed straight to the treez. The untouched freshies and multiple faceshots we experienced were something we normally get in the heart of winter. To see that on closing weekend at Baker was truly magical. By midday the sun had returned and everything started to soften up again but we could care less. Our legs were spent. We got to rip the place to shreds before the Retro party and mogul contest brought people to the mountain in droves.
Closing weekend of winter '17-'18 was unlike any we'd seen before. We're used to donning the garbage bags and riding in the rain or taking shirtless runs. To experience a full blown powder day one last time made all our stress evaporate. Spending time with the crew on such a special weekend was the best way to cap off a stellar season in the mountains. As the temperatures warm and summer draws closer, take a moment to reflect upon what a great winter it really was. She came in like a lion and went out like a lamb. We're truly fortunate to be able to experience Life In The Treez and Moments Like These-->
---