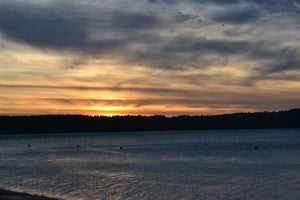 Longer Dayz | Spring Is Coming
Daylight savings time is an annual reset. This year's time change coincided with the tail end of a massive snowstorm in the mountains. Thanks to another extended stretch of cold temps and heavy precip, we have some solid looking bases at the Washington resorts. As of March 13, 2018 we sitting at:
Alpental 198"
Mount Baker 242"
Stevens 126"
Crystal 106"
The streaky weather of this La Nina winter has created many sleeper pow days! This most recent cycle has given us the depth we need for some amazing spring riding. It's safe to say that as we approach spring equinox and the days get longer there will be plenty of opportunities to slash the slush.
Although it's tough for powder hounds to see steady increases in temperature as a good thing; longer and drier dayz in the city are a welcome change. More daylight means more time for adventure.
There's nothing better than breaking out the Hawaiian shirts and dusting off the Coleman stove for spring mountain parties. I mean, Capita even created an entire line of snowboards dedicated to spring break. Plus, what better way to start off the summer than a fresh goggle tan?
This winter has been a blast so far and we're sad to see it go. But as we transition into warmer and longer dayz, it's time to enjoy some bright sun and the mashed potato snow that can turn anyone into a hero on the slopes. And who knows? Maybe mother nature has another dump or two left in the tank. It snowed over 30 inches in a week last April. Stay tuned for updates on our ET Spring Release!! Until then, here's to enjoying Lyfe In The Treez and Moments Like These-->
---