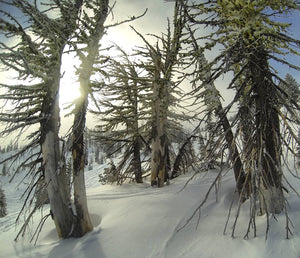 Mount Bachelor | Welcome Back, Winter
The start to the 2018 winter season has definitely had it's share of ups and downs. In fact, the stark contrast in weather from week to week can almost certainly be attributed to the strong La Nina weather pattern that has developed in the Pacific. The ET crew has had some dank pow days and a ton of soggy days where the temperature reached 40+ degrees. In most cases spring snow is nice; January isn't one of those times. We booked a trip to Bend before the New Year came to be. That's why we were all incredibly nervous when January 10th rolled around and Mount Bachelor was experiencing one of it's lowest snowpacks in several years. With an optimistic spirit and a mindful eye to the forecast we loaded up the rigs and made our journey to central Oregon. When we got to Bend we weren't at all surprised to see no snow in town. What really surprised us was the fact that temperatures dropped nearly ten degrees from January's average and it started snowing the moment we got there. For the next four days it refused to let up! 
Needless to say, we were all hyped to see the return of old man winter to the forest. The temperature didn't read higher than 24 degrees throughout the duration of our stay. Turns through the Treez were soft and untouched. Perfect pillow poppin' weather. We took advantage of short lift lines midweek and drank beer at Crux, Deschutes and Boneyard during the weekend. 
I was riding the LibTech Cold Brew for the first time; it went down smoother than the Gimme Mo' IPA on tap at the Crux Fermentation Project. Camber under the feet gives that board tons of pop and responsiveness while rocker in the middle and through the nose make it float like a champ. Magnetraction edges helped a lot on some of the windblown faces that were a little firmer. I was happy to ride a board with that kind of mild taper; it really saves the legs on days where the snow is deeper.
We found some magical sidehits and took full advantage of our time on the lone peak. Welcome back winter, we missed you.
---