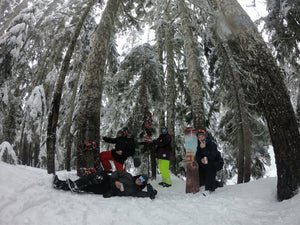 Pandome-onium | Baker with the Crew
Sometimes the stars just simply align. After a tumultuous January filled with warm temperatures, lack of snowfall and myriad life obligations it's safe to say that the ET crew was in dire need of a trip to the forest. We'd kept our eyes on the forecast and were hopeful for at least a little new snow as we packed our bags for Bellingham and Mt. Weird. The trip started with calm winds and broken clouds. We made our obligatory stop off Chuckanut Drive to climb some treez and play a game of skate at Larrabee State Park. The overwhelming feeling of calm that forest evokes alleviates stress in a hurry. 
Once the sun started to set we headed to the heart of Bellingham to get our weeknd started. We hit up WesSpur Tree Supply to pick up some climbing gear, including a new throw line. Kulshan makes a seasonal beer called Kitten Mittens that I've been diggin' so naturally we had to make a stop. It's a dark Ale that Old Man Winter himself would drive 30 miles in a snowstorm for.
Since it was just a Rocks' toss away, we went to Stones Throw Brewing next. They've been a leader in sustainable and community driven brewing in Bham for almost 3 years and their Snow Day warmer has been spotted in the hands (branches?) of Frosty himself.  We capped off the Winter beer experience with a PowderHound IPA at Wander as we stared off into their big ol' fire pit. We couldn't afford any more craft beer so a visit to the famous Up & Up had to happen. Shooting some billiards and grabbing a slice of pizza were the only things that made sense. Being a Thursday night, downtown was pretty quiet so it felt good to have the bar to ourselves after a stressful month. Thursday evening rap sessions and couchsurfing had us off to the best start to our trip imaginable. Friday morning came with a much needed change in weather. It seemed like it hadn't rained in the city all year! The air in Bellingham was FRESH as we grabbed a breakfast sandwich at boulevard park. A little chocolate milk and some grocery shopping then it was time to head to the forest. We rented an AirBNB in Glacier for the weeknd; once we lost cell service we knew we were getting close. We pulled up to the Hideout and couldn't believe our eyes.
We were tucked deep in the treez and had everything imaginable for a great sesh in front of us. A huge outdoor firepit and hottub, indoor sauna, and enough sleeping space for 7 homies. We poured some tea and watched Dave Chappelle as we waited for the rest of the crew to show up. That night we had a waxing party outside as the snowfall in the mountains intensified. The stoke was high as the bass hit low. The makeshift waxing bench we crafted out of Wes' tailgate and a couple pieces of firewood worked brilliantly. 
Each and every one of us took the time to drip some One-Ball fluorinated wax on our decks as we listened to classic hip-hop. Vitamin R and a speaker are absolute necessities when having a wax session. We stacked our boards against the house and took a group photo before calling it a night.
Getting 7 dudes and all their gear up in time for first chair is a tall order. That's why we packed Friday night and loaded up first thing Saturday morning. Jimmy Dean has been helping people like us make breakfast on demand since 1957. He's a saint. After sausage croissants and pedialyte (team favorite) we were ready to roll. We strapped the boards and skis to the Tacoma and hit the road. 542 had an exorbitant amount of kooks on it, even for a Saturday. There were people spun out all over the road and the line of cars from Glacier extended all the way into the Ski Area parking lot. Luckily we left early because we had time to scrape all our decks in the parking lot and snag everyone's lift tickets by 9. We didn't get first chair but we were damn close.
The day started off with blowing wind, low vis and snorkel deep powder turns. We headed up Chair 6 and boot packed our way out into Blueberry Hills. That side of the mountain is wayward and provided some of the deepest pockets we'd seen all season in the treez. Keeping a group of 7 shreddas together is a nearly impossible task, and this is where the group split up. Joey, AJ, Brian and myself hung together and stumbled upon death star in the middle of the day. It's a natty banked slalom that locals like to go to, and we lapped it with more regularity than someone on a prune diet. 
By midday the runs were getting pretty tracked out and Mt. Weird was the busiest we'd ever seen it. Normally the long drive is enough to thwart the Seattle crowds but the PNW hadn't seen much in the form of snowfall in quite some time. Everybody needed their powder fix and this just so happened to be the day. Luckily the visibility started to improve in the afternoon and Mama Shuksan had the chance to appear for us. I took a moment of sanctity in the treez to admire her beauty. There's no feeling quite like being out in the wilderness and taking the time to unstrap your board and just listen. In the complexity of everyday life these moments of tranquility are ever more fleeting. I simply laid down in the middle of the forest and let the silence take over. Staring up at the broken clouds and the tip of Mt. Shuksan slicing through the fog was a therapeutic experience. 
Once I emerged from the dense EvergreenTreez I found myself back on Chair one where there's a nice little halfpipe towards the base area. I kept going back for more and before I knew it the day was almost over. We might not have gotten first chair but I definitely got last chair. By 3:15 the mountain cleared out and we had the place to ourselves. This is what Shuksan looked like at the top of Chair One before I took my last run of the day.
Once I got back to the parking lot I was finally reunited with the crew. We spent a solid hour mirin' the views and gearing down while we finished the last of our beers. Once we did an obligatory lap through the gift shop to pick up stickers we reluctantly headed out. Luckily we were greeted with a hot tub and sauna in Glacier instead of a four hour drive home. That night we spent outside by the fire and shooting each other with air soft guns. As the daylight slipped away we all took a moment to reflect on our Baker experience and how lucky we are to live Life In The Treez and have moments like these --->
---
3 comments