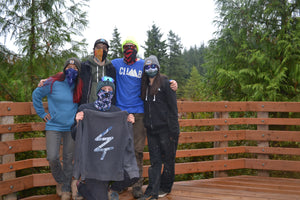 Planting of Autumn Park | Snoqualmie, WA
Where do we even begin? 2020 has been such an arduous year for everyone. From the early days of quarantine in March, our sense of community has been completely altered. We were told to stay in our homes and avoid contact with people; especially large groups. The community connection our movement is rooted in was completely disrupted. We had several planting & forest restoration events planned for the spring and summer before the turbidity of Covid-19 settled in.
As we began to adjust to a new way of living it became increasingly clear that our events would have to be put on hold. At first we wanted to host events with social distancing and strict mask adherence in order to plant treez. In April we made the decision to postpone all events until further notice. With Governor Inslee's stay at home order and mask mandate we knew it was going to be a while until group gatherings were allowed. Over the summer Aj and I spent time mowing down blackberries and caring for the baby treez we've planted the past few years. Without the help of volunteer events, our planting sites saw an explosion of invasive species growth.
For the last two years we've sponsored Green Snoqualmie Day; the city's largest annual planting event. In 2018 and 2019 we planted hundreds of native evergreen trees and shrubs at Community Park and Jeanne Hansen Park, respectively. This year with the uncertainty around large gatherings we knew that such an event was entirely out of the realm of possibility. We reached out to Charlie Vogelheim with Forterra and Phil Bennett with the City of Snoqualmie to brainstorm a way in which we could still get some treez in the ground. They informed us we could host a socially distant event with no more than five total people, and we were ecstatic. When we arrived at Autumn Park on Saturday, the morning had a damp and moody feel to it. Temperatures were in the low forties but our collective energy kept us warm from the start. The fall colors were still incredibly vibrant, contrasting against the pale sky. After having some tea and a quick debriefing we journeyed into the mythical forest. We walked through lush old growth as we came across a serene boardwalk. On the other side we found the native planting site.
Phil worked hard to mulch and prepare the area for the little saplings. We were overjoyed to see the assortment of treez and shrubs spread throughout the area.
There were several varieties of natives ranging from Douglas Fir & Western Red Cedar to Evergreen Huckleberry, Sword Fern and Oceanspray. We grabbed our tools and got to digging.
The calm feeling the forest evokes is what we live for, and it was ever-present this particular morning. After such a tumultuous year in which all of us were exposed to a pandemic, a deteriorating political climate, myriad social justice movements, limited human connection and a worsening climate crisis, it felt therapeutic to take a moment and breathe in our surroundings.
Digging your hands in to the dirt and planting a tree is a simple act, but the sanctity and connection to the Earth it provides is truly gratifying.
After just an hour of digging, we saw the forest around us completely transform. An already verdant and healthy ecosystem, it was now densely reforested with native treez and shrubs, ready to thrive in it's biological diversity.
The next step in the restoration project was to spread a thick layer of mulch around the baby treez to give them needed nutrients.
We grabbed our Homer Buckets and rakes to spread out the fresh mulch. 
After putting a sizeable dent in the mulch pile, we had a very satisfying look around the forest. The 60 new plants we put in the ground were given a new home, a place they will grow to be big contributors to the health of this ecosystem. We gathered our tools and took a stroll to the end of the boardwalk we discovered earlier. There was a dope view of the native wetlands; the peripheral forest was painted with fall colors.
After taking in the view for a while and sharing some laughs about all the shit that's happened this year we took our obligatory group photo and headed back to the trailhead. Dirty, tired and now freezing because of how much we'd been sweating, we packed everything up, threw on the Vans and headed to No Boat Brewing on the Ridge for a Snoqualmie Maybe Pale. If you've never been there; highly recommend. It's well worth the drive and the vibe is super chill. We had a toast to the treez and looked back on all we've accomplished to date. Normally after a planting event we would completely take over No Boat with our group. This time was a lot different as we were only allowed to have five people attend the planting, but the spirit of everyone who has ever supported the ET movement was definitely felt.
We're continually humbled and grateful for these opportunities to give back. The support and awareness that's grown the past few years has contributed to us spreading our roots. Thank you for supporting us, and for reading these tree talks! It means a lot. Before we know it we'll be able to gather again in large groups and build on the sense of community that started the ET movement. We're also releasing a new collection of winter goods in the coming weeks; keep an eye out!! In the meantime; stay safe, stay positive and if you haven't already, please VOTE. Vote for those who don't have a voice. Vote for the natural world we're all connected to. Vote for life in the treez and moments like these-->
---