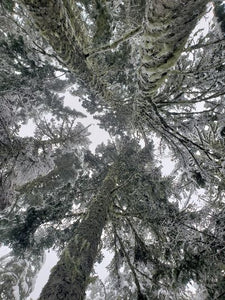 Snowy Szn | Sign up for Powder Alerts!
What's the deal with the snowfall (or lack thereof) this year? If you're like most powder junkies you've been busting out the early snow dances and keeping a keen eye to the local forecast. Your skis and boards are waxed and tuned, you swooped the new gear you'd been eyeing all summer and your new roof rack has been installed but aside from some early season flurries the entire West Coast has been quiet on the storm front.
The best part about living in the Northwest is that storms can roll through in a hurry. When cold air from the North converges with precipitation from the West, things tend to get pretty wild. For the vast majority of the autumn season this year we've been plagued by a persistent high pressure system. While the sunny days have been nice; let's be real. We're looking for 40 degree days and rain in the city. 
Luckily, the El Nino weather pattern we saw last year is over, and we typically only need 3-5ft of snow to open. With yesterday's dusting, that means the most anticipated day of our year is only one storm away. You never know how the storms will roll in, so you want to jump on the powder train when they develop. That's where powder alerts come in. There are myriad resources for checking the forecast, so how do you decide which ones you can trust?
Start Local. Cliff Mass is a University of Washington professor with a penchant for accurate forecasting. He correctly predicted last years "Snowmageddon" weeks before it happened. His blog is a reliable source for those wanting a deeper and more scientific look at current weather, weather prediction and climate issues. https://cliffmass.blogspot.com/
Sign up for Powder Alerts. If you want the latest scoop on mountain conditions sent straight to your inbox, look no further than the Powder Poobah. AKA Larry Schick, the Poobah delivers witty and engaging content that's relatable to anyone chasing the white room. Larry has been humbly serving NW skiers and riders for decades with accurate powder forecasts. You can sign up to have powder alerts sent directly to your inbox so you never miss a deep day again.
https://powderpoobah.com/
Listen to THE Action Sports Podcast. Mike Powell has worked with Powder Magazine and hundreds of prominent athletes in his time working the action sports industry. His weekly podcast features topics ranging from business to safe backcountry travel. You never know what important insight his next guest will drop. 
http://www.thepowellmovement.com/
Do your homework. The Pacific Northwest is a mecca for progressive forecasting and avalanche preparedness. One of the most valuable resources we share as skiers and snowboarders is the Northwest Avalanche Center website. NWAC is a critical resource for anyone who wants to travel safely into the backcountry. Their mix of accurate forecasting, telemetry data, education and avalanche danger is second to none. Check out their website for some valuable insight before heading out into the treez. https://www.nwac.us/
---